Islands Entertainment Network (Islands) was established in 2005 as a DJ, entertainment and audio/visual service provider.  Today Islands has become a one-stop-shop for everything entertainment.
Islands caters to both the local and non-local clients, and provides services to individuals, businesses and corporations, including hotels, their clients and guests.
We specialize in destination weddings, corporate functions and custom and innovative events.
Islands is based in San Juan, Puerto Rico with satellite offices and equipment in Vieques.
Business Services
Islands offers services through four distinctive and complementary business lines, each providing multiple products and services to its clients.
Islands owns a significant inventory of the most common Audio Visual, Lighting and Music equipment in both San Juan and Vieques Island, and can accept on-demand requests, when available.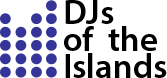 Partner Network
Islands provides additional services through a selective list of preferred partners, which are some of the most recognized and experienced providers in their own industry.
We are constantly scouting new talent and new partners to ensure you obtain the best available solutions and most innovative concepts to meet your events needs.
Service Promise
We work hard to ensure our clients and their guests receive a positive and professional experience before, during and after your event. We currently have backup systems on premises to all our gear in case of equipment failure (when available and/or applicable).
We require our staff, partners and vendors to abide and observe our Guidelines of Conduct.
Guidelines of Conduct
Be courteous, punctual and professional
Always say 'hello' and give the guests the right-of-way
The use of proper attire and/or uniform is required at all times
Avoid potential hazards to all guests and staff while performing your duties
Drinking and smoking is not permitted while working
Excessive fraternizing, staring and flirting with guests is not permitted
We discourage the use of personal phones while working
Keep a reverent voice understanding your surroundings at all times
Use service entrances and exists when available
Always have a 'Plan B'